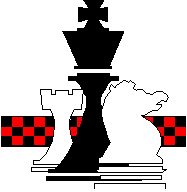 Spring Garden Spring Fling Scholastic Chess Tournament
Saturday, April 20
Spring Garden Elementary u 2400 Cummings, Bedford
Ø Format: 4 round Swis-sys, G/30
Ø Sections: Unrated K-12 (never played in a tournament), Rated Primary (K-3), Rated Elementary (K-6), Rated Middle School/High School (7-12).
Ø USCF membership required for all rated sections and available at the tournament site. Scholastic (14 and under) $13, youth (over14) $20.
Ø Fee: $12.00 if pre-registered by 4/18/02 (click here for a printable registration form) , $15.00 at the site. OR click here to register online.
Ø Saturday registration 8:15 a.m. – 9:00 a.m. Bring clocks, sets provided. Round 1 at 9:30 a.m., other rounds ASAP. 1 bye is available if requested before round 2. Saturday registration may receive ½ point 1st round bye.
Ø Trophies: Top 6 individuals in each section. Team trophies given to the top 4 primary and elementary teams, top 3 middle school teams. 4 players make a team.
Ø Special parent clinics - "Everything you want to know about scholastic chess but were afraid to ask" and "How to help your child play better chess" put on during the rounds. Come and learn while your child plays!
Ø Send registration form to Mark Roberts, 3808 Horizon Drive, Bedford, TX 76021. Make checks payable to the Spring Garden PTA.